A first-class start to a first-class future
After BHASVIC
From your initial interview to regular meetings with your Personal Tutor, staff will work with you to carefully consider and plan your progression beyond BHASVIC.

BHASVIC offers specialist progression support for Visual Arts students, Oxbridge students, Vets, Dentists, Medics, musicians, those aiming for apprenticeships or direct employment after College, and students applying to foreign universities.

Our progression advice and guidance is recognised as outstanding.

All students discuss their careers with their Personal Tutor as part of the weekly tutor programme, and students are guided and encouraged in their use of the Careers Suite to find out about higher and further education courses, apprenticeships, employment, careers of interest and gap year projects.
We will encourage you to be aspirational and challenge yourself to do the very best you can in your exams and in your future career and life goals.
This data, provided to us by the Sixth Form Colleges Association and drawn from the HESA data set, enables us to compare how well BHASVIC students achieve on their degree courses comparable to similar institutions.
We can clearly see BHASVIC students achieve higher degrees.
| | | |
| --- | --- | --- |
| DEGREE CLASSIFICATION | 1ST CLASS | 1ST OR 2:1 |
| BHASVIC | 41% | 92% |
| INDEPENDENT PROVIDERS | 29% | 87% |
| SIXTH FORM COLLEGES | 29% | 79% |
| ALL STATE PROVIDERS | 28% | 78% |
The figures show that more than four in every five BHASVIC students who completed a degree achieved a 1st or a 2:1. This percentage is significantly higher than all other sectors, including the independent sector. We believe that BHASVIC offers something unique; preparation in giving our students the independence to achieve at the highest level. Over 54% of our students go on to study at a high tariff University compared to a national figure of 29%. According to Cambridge University admissions data, BHASVIC is the largest non-selective state education provider of students to Cambridge University. Nearly half the students who have been offered places are from families who have not traditionally gone to University.

| | |
| --- | --- |
| Category | % |
| Entered HE | 58.4 |
| Continued FE | 10 |
| Employed | 21.2 |
| Voluntary Work | 0.5 |
| Apprenticeships | 1.5 |
| Other (inc Gap Year) | 4.6 |
| Not in Education, Employment or Training | 0.7 |
| Unknown | 3.1 |

% of BHASVIC June 2018 leavers entering Higher Education
2014 - 66%
2015 - 67%
2016 - 75%
2017 - 69%
2018 - 59%
Note that those entering HE after a gap year are not included in these figures.
This summary graph shows the % total of actual acceptances by students into universities.

High tariff universities will be requesting the highest grades and will include Russell Group universities and Oxbridge.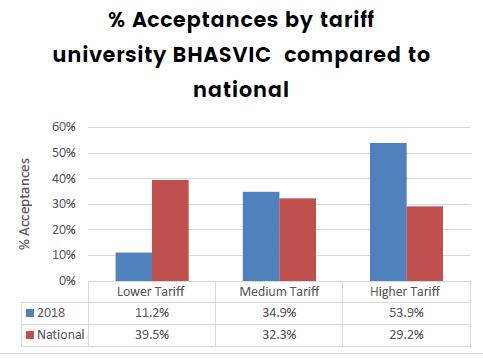 BHASVIC processed 1024 University applications last year from current and ex-students – an increase from 893 in 2015
97.7% of BHASVIC students applying to University successfully began a university course, compared with a national figure of 74.5% for post-16 education.
97.6% of our applicants receive offers compared to 87.1% nationally, showing we are successful in guiding students to make appropriate course choices, usually a mix of aspirational, solid and safe.
We have seen a large increase in Unconditional offers from 0.9% in 2014 to 12.3% in 2018.

82.9% of BHASVIC students accepted their firm offer.

We continue to be pleased that our percentage of acceptance routes for BAME groups is significantly higher than the national average.
53.9% of BHASVIC students accepted a place at a high tariff university (including Oxbridge & Russell Group universities), substantially higher than the national average of 20.2%.
Number of Oxbridge offers continues to increase year on year with over 120 offers in the past three years – making us the highest non-selective state provider to Cambridge. Our Oxford offers also increase year on year.
We are also seeing an increase in Medics, Veterinary and Dentistry offers from 17 in 2015 to 22 in 2018 with an offer rate of around 1:2 compared to 1:10 nationally.
HESA data shows our students are more likely to complete university compared to the general sixth form, state and independent sectors
70% of our vulnerable and disadvantaged students (low income, young carers, in care, care leavers) go onto university and 60% of our students receiving learning support – figures equal to our main student cohort
92.5% of our students achieve first and 2:1 degrees, substantially higher than the independent, state and sixth form sector in general. For students from low participation wards for all UK universities the figure is 92% compared to 69% for the state sector.
14% of our students progress into specialised further education, including very successful art foundation entry.