A first-class start to a first-class future
After BHASVIC
From your initial interview to regular meetings with your Personal Tutor, staff will work with you to carefully consider and plan your progression beyond BHASVIC.
BHASVIC offers specialist progression support for Visual Arts students, Oxbridge students, Vets, Dentists, Medics, musicians, those aiming for apprenticeships or direct employment after College, and students applying to foreign universities.
Our progression advice and guidance is recognised as outstanding.
All students discuss their careers with their Personal Tutor as part of the weekly tutor programme, and students are guided and encouraged in their use of the Careers Suite to find out about higher and further education courses, apprenticeships, employment, careers of interest and gap year projects.
We will encourage you to be aspirational and challenge yourself to do the very best you can in your exams and in your future career and life goals.
This data, provided to us by the Sixth Form Colleges Association and drawn from the HESA data set, enables us to compare how well BHASVIC students achieve on their degree courses comparable to similar institutions.
We can clearly see BHASVIC students achieve higher degrees.
| | | |
| --- | --- | --- |
| DEGREE CLASSIFICATION | 1ST CLASS | 1ST OR 2:1 |
| BHASVIC | 45% | 93% |
| INDEPENDENT PROVIDERS | 38% | 91% |
| SIXTH FORM COLLEGES | 35% | 85% |
| ALL STATE PROVIDERS | 35% | 84% |
The figures show that more than four in every five BHASVIC students who completed a degree achieved a 1st or a 2:1. This percentage is significantly higher than all other sectors, including the independent sector. We believe that BHASVIC offers something unique; preparation in giving our students the independence to achieve at the highest level. Over 54% of our students go on to study at a high tariff University compared to a national figure of 29%. According to Cambridge University admissions data, BHASVIC is the largest non-selective state education provider of students to Cambridge University. Nearly half the students who have been offered places are from families who have not traditionally gone to University.

| | |
| --- | --- |
| Category | % |
| Entered HE | 71 |
| Continued FE | 12 |
| Employed | 16 |
| Other (inc Gap Year) | 7 |
| Not in Education, Employment or Training | 2 |
| Unknown | 1 |
This summary graph shows the % total of actual acceptances by students into universities.
High tariff universities will be requesting the highest grades and will include Russell Group universities and Oxbridge.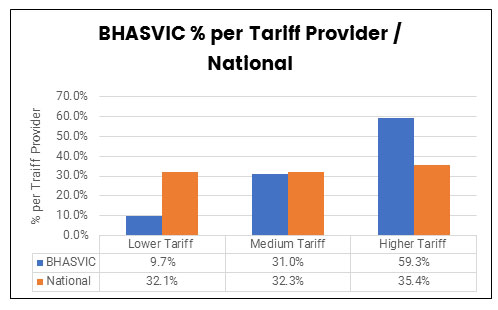 Providers are grouped in tariffs dependent on UCAS points required for entry onto courses.
A higher tariff university (such as, but not exclusively, Oxbridge or Russell Group) may typically offer on grades AAA.
A medium tariff BBB/BBC.
A lower tariff CCC or lower.

Each group is comprised of around a third of Higher Education providers.
Year on year more of our students are accepted into high tariff universities.
However, students applying for specialist courses may find that the centre of excellence for their chosen specialist subject is not in a high tariff group (e.g. Radio Production at Wrexham). Always worth bearing in mind that the best course and university for any student is one in which they will thrive.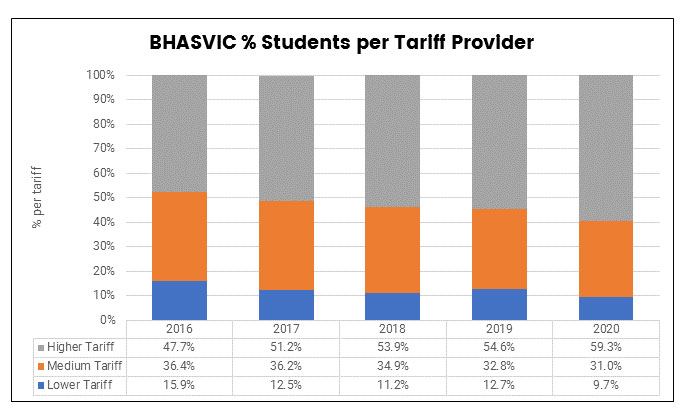 Around 70% of our students enter Higher Education with around a quarter taking a gap year before they go.


Around 16% of students enter into employment, including apprenticeships, upon leaving BHASVIC. A significant upward trend as a result of our Employability provision in the past three years.


We continue to be pleased that our percentage of Higher Education acceptance routes for Widening Participation (including low income, first in family to go to university, care-leavers) and BAME groups is significantly higher than the national average.


60% of BHASVIC students accepted a place at a high tariff university (including Oxbridge & Russell Group), substantially higher than the national average of 35%.


Number of Oxbridge offers continues to increase year on year with over 200 offers in the past four years – making us the highest non-selective state provider to Cambridge. Our disadvantaged students in 2020 have a higher chance of an offer compared to our wider cohort.


We have seen a sustained increase in Medics, Veterinary and Dentistry offers with an offer rate of around 1:2 compared to 1:10 nationally.


HESA data shows 93.3% of our students achieve first or 2:1 degrees, substantially higher than the general sixth form sector. Excellent success rates at university study are replicated amongst low participation wards and First-generation scholars.


70% of our vulnerable and disadvantaged students (low income, young carers, in care, care leavers) go onto university and 60% of our students receiving learning support – figures equal to our main student cohort.


9% of our students' progress into specialised further education, including very successful art foundation entry.


Our Early leaver's rates are higher this year due to COVID with most going back to school sixth form or entering apprenticeships. We continue to monitor.