News
17th August 2023
Principal's statement on A Level results
BHASVIC exceeds expectations in the face of a challenging national picture
BHASVIC students have yet again shown how resilient they are. Having not taken formal exams for their GCSEs, this year group sat their first public examinations this summer, and did so against a backdrop of government announcements that results nationally would be lower this year than in 2022, as grading returns to pre-pandemic standards. This means that results this year are most meaningfully compared with 2019 outcomes which is where the government determined grades should be re-aligned nationally.
The A Level pass rate of 99.5% is identical to pre-pandemic years, with a record 13.2% of grades at A* (4.6% above national average) with just under 40% at A*-A (12.7% above national average). BTEC results also match pre-pandemic outcomes with over 60% of results including a Distinction or Distinction Star (10% up on the previous year). These courses have an important place in our curriculum and the college is campaigning for the government to reverse their decision to defund them in 2024-25.
Of the 1,502 UCAS applications from BHASVIC, 72.3% have been placed in their first choice with more securing an insurance place. Of those placed, 42 students have been successful in gaining a place at Oxford or Cambridge. The college is working with students not placed to access alternative University courses and progression pathways.
We are delighted that 2023 outcomes at BHASVIC are comparable to those of pre-pandemic years, which place BHASVIC in the top 1% of providers and where high grades account for just under 70% of all results (16% above national average). To maintain that consistency despite all the disruption of the past few years and everything that the college, staff and students have been though, is an astonishing achievement.
Principal William Baldwin said 'I'd like to thank staff for their dedication and congratulate BHASVIC students for all they have achieved. Our results are a reflection of our amazing college staff and committed students who have once again exceeded expectations in the face of a challenging national picture. I'm so proud of them.'
'These results are a culmination of years of learning and as such I'd like to thank our schools for laying the foundations. Thanks must also go to our parents and carers for the support they provide to our learners – especially during the disruption caused by the pandemic. And a final word to our students: Remember that your results don't define you – kindness and compassion are more important qualities than grades. I know you have exciting futures ahead - good luck as you embark on your varied and exciting progression routes. You are all exceptional, inspiring, and talented young people and we couldn't be prouder of you.'
The college is providing all the usual post-results support to students, anyone in need of advice should visit the exams section of the website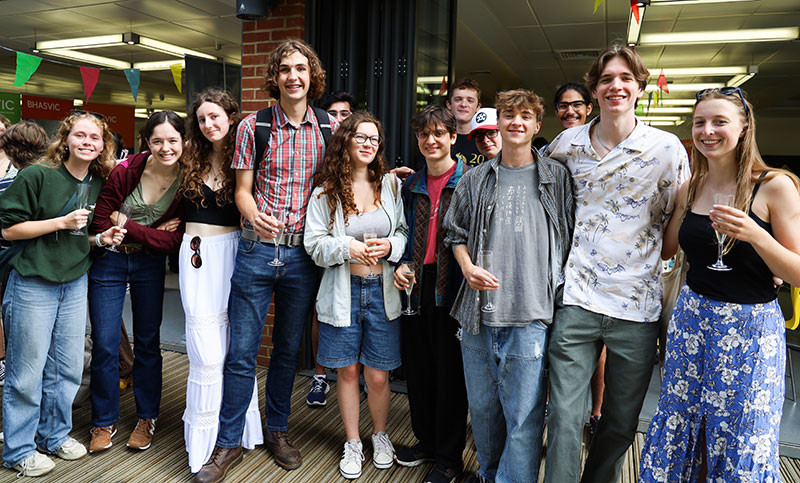 Students celebrate their success.