Take the next step with us
Applying to BHASVIC
The online application form is now closed. Applications for September 2020 start will open October 2019
Denise Mansfield
Admissions Manager
We welcome applications from all students, and are proud of our diverse student body.

Accord College: BHASVIC, Varndean and MET
BHASVIC, Brighton MET and Varndean College together form the Accord Colleges in Brighton and Hove. The three colleges have a coordinated application process for students seeking to study at any of the Accord Colleges.

Under the Accord, you will not be able to make an application to both BHASVIC and Varndean College. This is so that these two sixth form colleges can effectively plan curriculum provision to cater for as many students wishing to study in one of these colleges as possible.

You are welcome to make an application to one of these two Sixth Form Colleges and also to Greater Brighton Metropolitan College (includes Brighton MET and Northbrook MET), however you are also entirely free to apply to any other educational institution – it is only in the case of BHASVIC and Varndean College that you are not able to apply to both colleges. An Accord College is likely to ask you, at interview, about any other applications you have made or offers you hold from other educational institution, employer or training provider.

As part of the application process for either Sixth Form College, you will be asked to confirm that you have not made a separate application to the other Sixth Form College.

BHASVIC and Varndean work very closely together and will share data to check and avoid applicants having applied to both Sixth Form Colleges. If you have made an application to both Sixth Form Colleges, you may no longer be treated as a priority applicant. One of the colleges will contact you to ask which application you wish to withdraw and an interview will not be possible at either college until this has been established.

Admissions Policy
As BHASVIC is often oversubscribed, we will give priority to students whose application forms reach the college on or before the first Friday in December.

In the event of oversubscription, we will offer places to students in the order specified by our Admissions Policy.

We welcome applications from all students, and are proud of our diverse student body. We do not discriminate based on disability, family responsibility, marital status, race, colour, ethnicity, nationality, religion or belief, gender, or sexual orientation.

Data sharing
To proceed with an application to either BHASVIC or Varndean College, you will be required to agree to the two colleges sharing your name, date of birth and contact details. Both colleges will only use this for duplicate application checking in December, after the priority application deadline. Once the checking process has been completed, the college you did not apply to will permanently delete your personal data.

This time next year you could be a BHASVIC student, so it pays to think ahead. Start to form an idea of what courses and subjects you'd like to do, bearing in mind where your talents lie now and where you see yourself in the future.
Consider the qualifications you might need for future careers or degree courses, and learn more about how BHASVIC can help you achieve them. Make the most of the information online and in our prospectus.

Open Evenings 2019 - Wednesday 13 and Thursday 14 November 6.30 – 9.00pm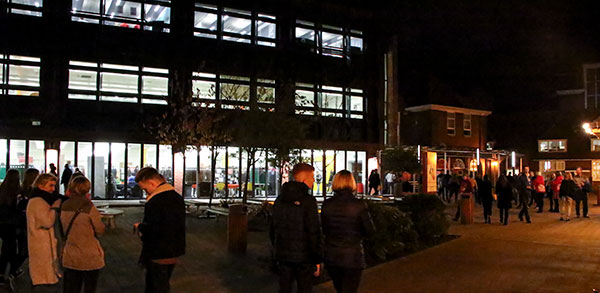 We hold two open evenings for prospective students and their parents. These are a chance to see the college and its facilities, to learn about the college's ethos and culture from our Principal, and to learn more about the courses you're interested in.
You will also get a chance to speak to lots of current BHASVIC students, who can answer all your questions as to what college is really like.

There is no need to book. Please note there is NO parking on site and parking is very limited on the roads around BHASVIC. Please use public transport if possible. For Blue Badge holders only – parking spaces are available on a first come first served basis at the front of BHASVIC.

December is decision time. Make sure your application is submitted by the first Friday in the month by 5pm to be considered a priority applicant.
If you are a UK student and we've received your application form by the first Friday in December, you will normally be given an admissions interview at the College.
This will be a chance to discuss your intended program of study and future career. To take your current progress into account, we'll ask to see your most recent school report and attendance records.
If we are able to make you an offer, we'll normally do so within two weeks of your interview (although students who are interviewed before Christmas may not receive an offer until January). You must accept your offer of a place at BHASVIC within two weeks of receiving an offer letter.
Once you have accepted your place at the College, you'll be invited to our Moving On day in late June or early July (as soon as GCSE exams have finished). Here you'll confirm your subject choices and join induction lessons, giving you a taste for college-level learning.
We also run induction evenings for new parents, where they can ask questions and find out more about our guidance and support systems.
We hope you will receive the GCSE results you're hoping for. However, if there's any doubt we can offer you advice via our Results Advisory Service.
At the very end of August or beginning of September you will have an enrolment interview to finalise your course structure in readiness for becoming an official BHASVIC student.
The second week in September is when our full teaching timetable starts. You will begin your time as a BHASVIC student with a thorough induction session, including plenty of opportunities for you to ask questions.
We will ensure that you have everything you need to know to make the best possible start here at BHASVIC.