News
11th November 2020
CollegesLive - 18 November from 2pm – 4.30pm
CollegesLive is an online zoom event for college students across the country to be inspired by innovators, survivors, and risk takers from around the World including:
Midge Ure OBE, Co-Founder of Band Aid/Live Aid, will be sharing his journey from growing up in a deprived area of Glasgow to receiving his OBE from the Queen, how he overcame setbacks and the importance of resilience and learning to embrace his love of creativity growing up.
Former FBI special agent, author and podcaster, Jerri Williams will be inspiring students across colleges as she reflects on how she succeeded in a male-dominated environment in the FBI, the importance of diversity and inclusion and working collaboratively to achieve your goals.
And the youngest person to walk on the Moon, Charles Duke, will be proving that the sky is the limit, encouraging curiosity, how to overcome setbacks in order to achieve your goals and will discuss how teamwork was crucial to the success of the Apollo mission.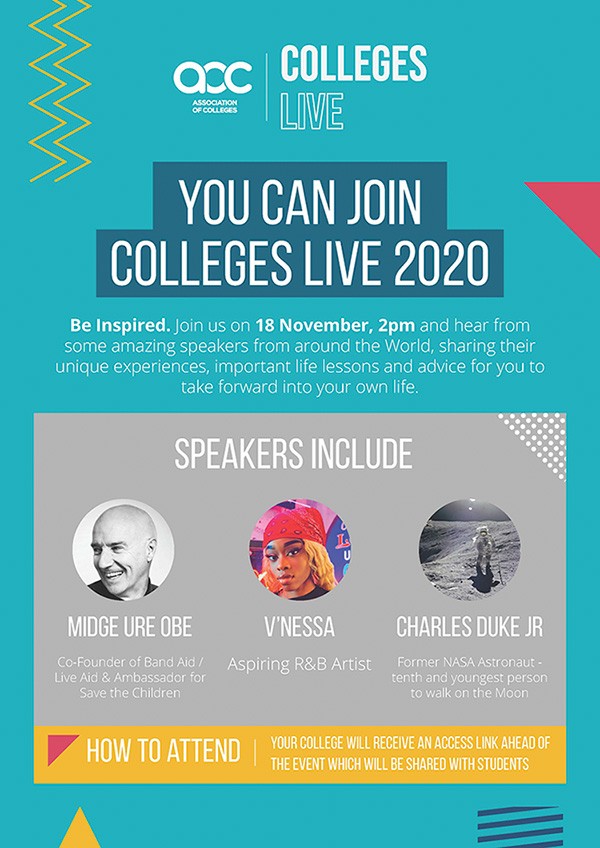 Please note, due to the current lockdown, we are expecting more attendees than first anticipated (approx. 50,000), therefore we have purchased the maximum zoom licence available to accommodate for this. If you are experiencing issues logging onto the event, please bear with us as we have a small events team but will try and respond to you as soon as possible. If you are unable to access the event due to technical issues, all registered colleges will receive a full recording on Friday 20 November.