News
28th April 2023
Women's Football National Cup Final
BHASVIC's Women's Football team travel to Accrington Stanley on 4th May to face Runshaw College, looking to take the crown in the prestigious National cup final. The team faced a Rossall School side featuring four Man City Academy players in the semi-final, and triumphed 3-2 in a thrilling game to reach the national final for the third time in five years, fingers crossed for third time lucky! Winning the cup would be the crowning achievement of an incredible year and we wish our Women's Football team the very best with their preparations, and long journey, ahead of the match.
Offering UEFA coaching BHASVIC's Women's Football Academy provides an amazing opportunity for players to develop in a cutting-edge and supportive environment. Students train three times per week before taking part in college fixtures on Wednesday afternoons. The programme includes strength and conditioning, video analysis and tech vest data that will help players improve their performance whilst playing at the highest level. Training and games are played on a 3G pitch with full Academy kit included for all players on the programme. Alongside the Academy, students complete a study programme at BHASVIC which is integrated into their college timetable and players come from across the college studying range of subjects from Sport & Exercise BTEC and Physical Education, to Double Maths and Physics. The Academy team enter all regional and national competitions and offer the chance for players to trial at a regional and international level. The local and national success of the side over the last few years is testament to the dedication and hard work of the coaching staff and players.
To celebrate our team here are some of the players profiles:
Ruby Melis - Captain of the Academy. "I am beyond proud to be a part of such an amazing group of talented girls! This year the team has gone from strength to strength, not only on the pitch but as a supportive group of friends. I am proud to call each and every one of them my friend and will remember the memories created this year, let's hope there is one special one to come. A massive thank you to Joe and Andy for always believing in me and the team, and for the amount of time and support they give to the academy. One final game, bring on the National Final!" #UTB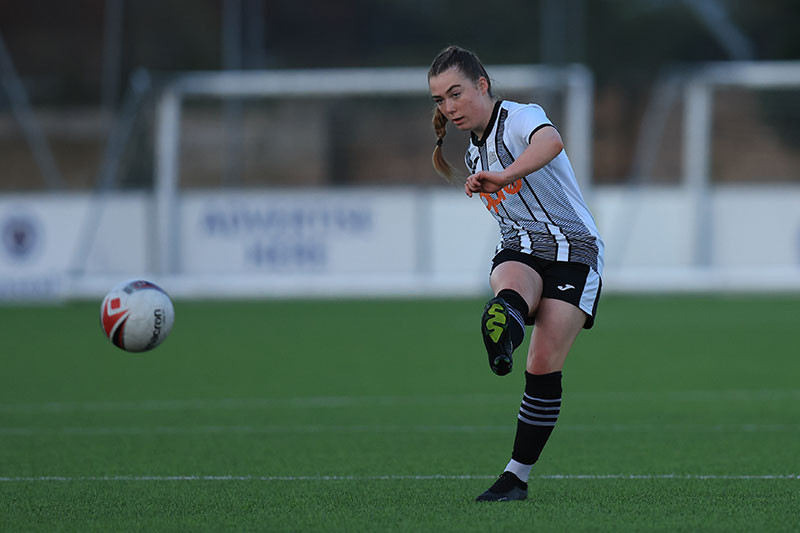 Photo Credit: Simon Roe
Nansi Wainwright taking courses in Law, Politics and Criminology says: "this variation gives me lots of opportunities in my future after college. With Women's Football at BHASVIC I really value the team connections, the spirit and togetherness throughout the squad."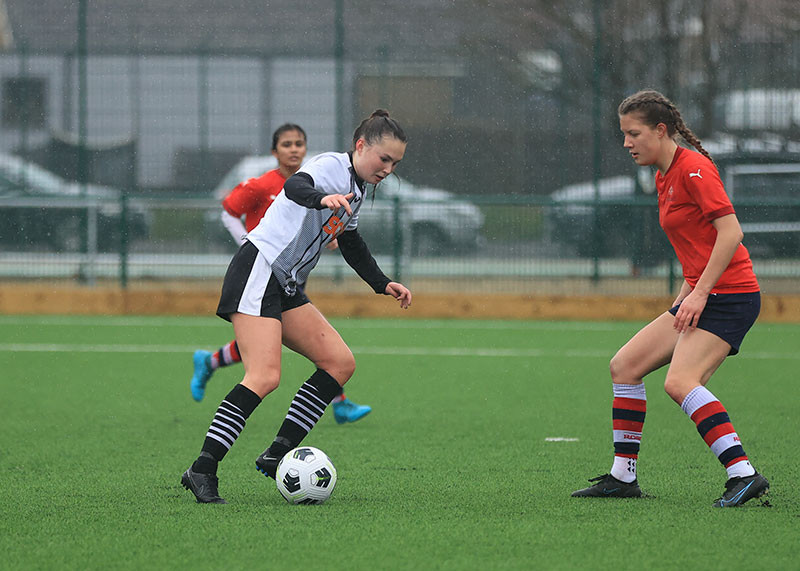 Photo Credit: Simon Roe
Tilly Gibbons: "I study Sport Science BTEC, Psychology and History A levels at BHASVIC. My favourite thing about the college is how the subjects can complement one another and offer detailed knowledge on a variety of topics. Being a part of the Women's Football Academy has allowed me to flourish as a player and a person. The coaching staff have really deepened my knowledge for football enabling me to become a better player."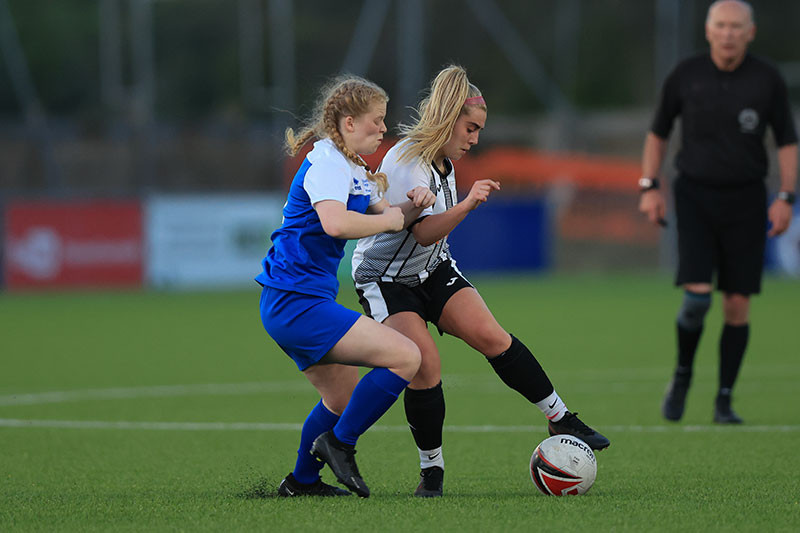 Photo Credit: Simon Roe
Maya Pritchard enjoys Sport, Psychology and Textiles at college believing that this range of subjects allows the development of knowledge at a detailed level which wasn't possible with GCSEs. Maya highlights the importance of: "the high level of competition and performance which allows me to play at a National level."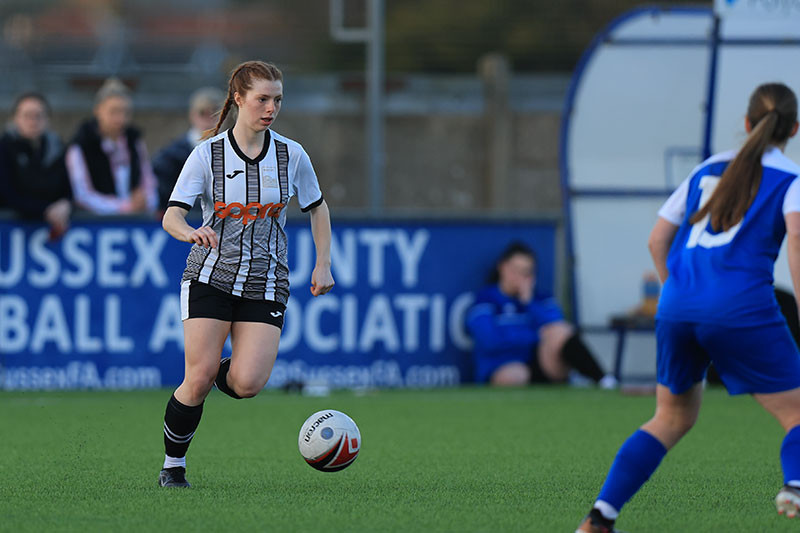 Photo Credit: Simon Roe
Joe McTiffen - Teacher of Sport "Reaching the National Cup Final for the third time in five years is such an achievement and it's now time to go all the way. The girls' efforts this year have been nothing short of exceptional and we are really looking forward to the occasion on Thursday. They are not just a group of players; they are a special team who spend every day together and really care about one another! We will give everything to get the win, but whatever the result, I am very proud of the players, they have had a fantastic season. A special thanks to Andy and Radd who have also given a lot of their time to make the academy such a success this season. One more game, let's go girls!"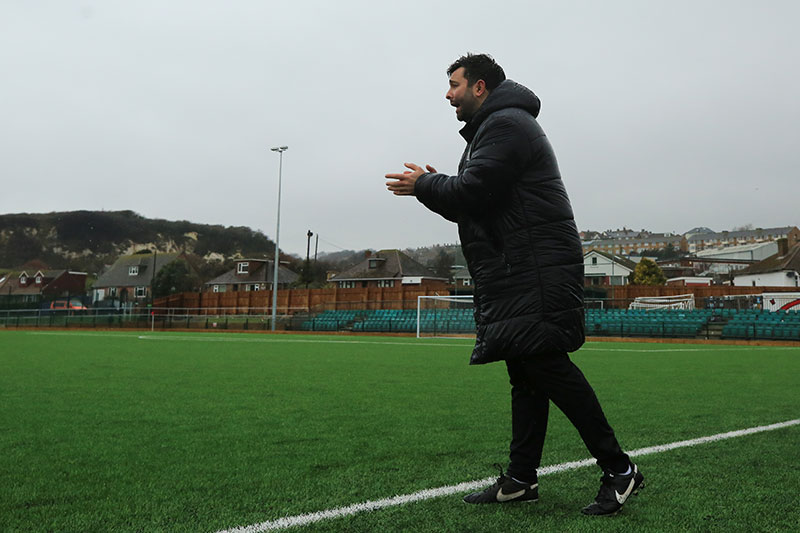 Photo Credit: Simon Roe