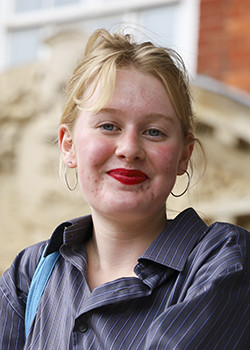 Caitlin Rothery
BHASVIC student
What was your previous School? Dorothy Stringer
Why did you choose BHASVIC? I really liked the feel of the college on the open day and wanted the opportunity to meet lots of new people.
What subjects are you studying? English Lit., Maths, Psychology
What's been most enjoyable? Studying English at BHASVIC has exposed me to so many interesting writers, genres and styles - I've really enjoyed this and found some of my favourite writers in the process. I have also loved the social side of college (although with lockdown there wasn't as much opportunity to get to know people).
What were the challenges and what have you learnt? Covid and lockdown have been the main challenges in terms of college over the past two years. Being at home so much just meant that the social side of college - which is obviously such a massive part of the experience - was limited. It did teach me to work independently and organise my time, though, which I do think has been quite valuable.
What are your plans for the future? I'm hoping to take a year out and work in Brighton. I aim to learn French this year too before going to University to study PPE. I will enjoy having a bit more time for creative writing over the summer too - if I could ever make writing my career I would love to.
I've always loved reading and writing - I remember being very inspired by children's writers like Michael Morpurgo and Dodie Smith to write my own stories. I have also kept a diary for quite a few years which has been useful in providing an environment in which the quality of what I write doesn't matter at all. This really encourages me to do it more often. In year nine, a friend and I were given the opportunity to write a play which was then performed by students. This was one of the first times I experienced seeing a piece of writing through from start to finish and it was so amazing to see the script made real by the cast. Since then, I have leant towards poetry and short stories and in the past year have made an effort to write more often and enter competitions. This helps me motivate myself and also find inspiration. I also take a lot of inspiration from things I read - I really admire writers like Ali Smith, T.S. Eliot, Marcus Zusak and Virginia Woolf for their beautiful style and engaging substance. One of my goals in my writing is to find a style that works for me as I tend to jump around stylistically depending on what I am reading at the time. I also aim to work on creating narrative, something which I struggle with, which was what made Flash Fiction so appealing to me. As the word limit for the competition entry was only 350 words there was no pressure to construct a huge narrative arc. In such a small number of words, my main aim was to convey a feeling - the confusing sense of relief and emptiness when guests leave.