Maths (Double) A Level
Qualification: GCE A Level in Mathematics + GCE A Level in Further Mathematics
Exam Board & Specification Code: Pearson; 9MA0 Specification + 9FM0 Specification
Course Entry Requirements: 7 in Maths GCSE and 4 in English Language GCSE or 4 in English Literature GCSE. Please also refer to the note regarding Double Maths in the Study Programme Entry Requirements.
Please make sure that you have understood the overall entry requirements to study at BHASVIC. These are available here and outline the GCSE grades you need to take up one of the Study Programmes at the college.
Length and size of qualification: 2 year double course, equivalent to 2 A levels
Timetable hours: 9 hours per week
Assessment method: 3 x 2 hour exams Year 1, 4 x 1.5 hour exams Year 2
BHASVIC Department: Maths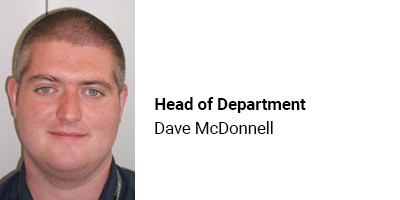 What will I study?
In the first year you will complete and sit your regular Maths A Level. In your second year, you will complete your Further Maths A Level, comprised of 50% Pure Maths and a further 50% determined by options chosen at the end of the first year. You will need to be resilient, and enjoy getting stuck and overcoming problems. Students develop strong peer groups that are vital in being able to help each other with problems each week. Amongst the support available there are Learning packs, Teacher-led Subject Extensions and Drop ins with the Doubles (A2 students).
Is this course right for me?
This is a course for students who love Maths and want to dedicate a great deal of their time at BHASVIC to Maths classes. You will spend at least 9 hours per week on independent study, culminating in the submission of an assignment each week. You will sit a weekly assignment test and a tracking test every half term. This is a very intense, rewarding course - especially at the beginning where students are not used to such a fast pace, and such a high workload outside of class. You will need to have strong GCSE algebra skills when you arrive here, as the jump from GCSE to A Level can feel quite vast at first. All students find this course challenging at some point, but the difference between a successful and an unsuccessful student is how they respond to that challenge. That said, if you love maths, this course will transform you completely by the end of the two years into a very competent mathematician.
Frequently asked questions
If you want to study Maths/Physics/Computing/Economics/Engineering at one of the best universities then you will need Double Maths.
Most of our double students are studying Double Maths and two other subjects. This is still difficult and you will need to be very motivated and organised.
The Further Maths GCSE will complement either the single or Double Maths A level.
Yes, in the first two weeks. Afterwards, only if you are on Double Maths and two other subjects.
Yes, but there is normally a cost involved.
Where next?
Studying Mathematics helps students develop logical thinking, problem-solving and decision-making skills that are valued by both universities and employers across many job sectors. Maths is a STEM subject (Science, Technology Engineering and Maths) where there is a current skills shortage for employers. Skills from these disciplines are in demand in the job market and have good long term career prospects. There are jobs available relating to diverse interests and they span a wide variety of sectors including entertainment, health, transport, sport, finance, space, energy, agriculture and construction. Jobs directly related to the subject could include Actuarial analyst, Chartered accountant, Data scientist, Investment Analyst, Teacher and Statistician. Careers where Maths can be useful include Financial Manager, Insurance Underwriter, Meteorologist and Quantity Surveyor. Studying Maths and Further Maths A level will be excellent preparation to study Maths or a related discipline at university. Apprenticeships requiring highly numerate individuals will also hold this A level subject in high regard. Useful websites to research careers and wider progression options could include Future Morph, Where Can STEM take you?, Maths Careers, All About Careers and The Apprenticeship Guide. Please Note: If you want to apply for the top universities in Physics, Maths, Engineering, then double maths is essential. STEP & STRETCH classes are also available to help you prepare for top university entry exams if needed.
Apply
View Department