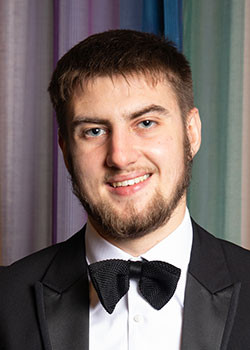 Finn Lawford Mee
Degree Apprenticeship at the Bank of England
I came from Hove Park and studied at BHASVIC from 2018 to 2020. I studied Psychology A Level, Computing BTEC and Law BTEC.
My time at BHASVIC was brilliant and challenging. I remember all the teachers being really caring and would put in a lot of time towards each student. I found myself doing really well in the BTEC subjects because I always knew the best way I learnt was to apply my knowledge and learn through mistakes, whereas Psychology I found hard because it was a classic structure of learn, remember, exams.
I went on to get a 4 year degree apprenticeship (level 6) at the Bank of England within Technology. I have been at the Bank 2 years and was the best decision I could have made. The degree part of my role is studied at Exeter University.
As I said previously I knew that I learnt from making mistakes and applying my knowledge to the real world and that's what the apprenticeship scheme offers.
BHASVIC really set me up for this and built my confidence massively. One way they did that was encouraging us to do 1 week's work experience at a company which is in the industry we wanted to join.
Currently I am in year 2 (year 3 in Sept 2022) of the apprenticeship scheme. In my role currently, I am a Test Lead on one of the biggest programmes in the Bank (ISO20022). My role involves me managing and leading 4 engineers, making strategic decisions, planning and looking into new technologies we need as a department.
The degree apprenticeship is in my opinion the best option for many people. It is usually 4 years long but gives you 4 years' worth of experience in the industry you want to be in, you are getting paid, your degree is getting paid for by the company and you get employee benefits such as paid holiday, pensions etc.
In my first year at the Bank I also got into the final for the BCS Apprentice of the year awards where I got to go to an awards dinner in London with 1,000 other people from Tech across different companies and celebrate my success.
BHASVIC has definitely built me a foundation for my success. I learnt a lot there and don't think I would be living my dreams and succeeding if it wasn't for graduating in 2020.