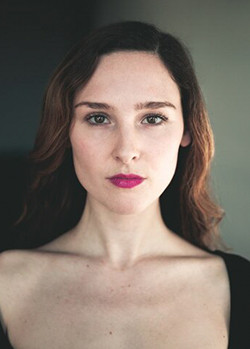 Grace Church
Physical Theatre, Comedy & Mime Actor
I came from Blatchington Mill School and studied at BHASVIC from 2009 to 2011. My years at BHASVIC allowed me to grow both academically and as a person. Studying feminist literature in English & political practitioners in Theatre studies allowed me to form my views & still inform the work I make today. My teachers were attentive & encouraged my creativity. They continue to support my theatre work today. BHASVIC provided the foundation for studying a degree in Drama and English at the University of East Anglia (UEA) (2011-2014) & doing the 2 year professional course (2015-2017) at the Lecoq school in Paris.
After University I formed Guttersnipe Theatre https://www.guttersnipetheatre.co.uk with BHASVIC alumna Molly McGeachin in 2014. Our show MOONFACE toured to Brighton Fringe, Edinburgh Fringe & Park Theatre receiving 5 star reviews: ('A bittersweet examination of growing pains, devised with precision and intelligence, and performed with honesty and joy'' - Broadway Baby)
At Lecoq I also formed another female-led company, Stumble Trip Theatre http://stumbletriptheatre.com . Our shows have toured to Edinburgh, Prague, and Brighton fringe plus venues such as The Wardrobe Bristol and Camden People's Theatre.
Stumble Trip Theatre also create storytelling shows in collaboration with acclaimed company the Embers Collective which we have toured to festivals such as Wilderness & VAULT festival.
I have also worked as a physical theatre performer for London College of Fashion at Saddler's wells, showcasing their costume design for performance.
Stumble Trip Theatre have recently been developing a new show about the mother child relationship (The Mother Sh*t) which is supported by the Arts Council & Shoreditch Town Hall. This is a collaboration between many multi disciplinary artists including dancers, spoken word artists & beat-boxers.
Stumble Trip are performing at Brighton Fringe 2021 at Brighton Spiegeltent with their absurd comedy show 'Frills & Spills'. They are also hosting the 'Sewer Cabaret' showcasing alternative acts from the London comedy scene.
This summer Stumble Trip are rural touring their storytelling show and performing 'Frills & Spills' at The Wardrobe Bristol.
I am especially grateful to my Drama teacher Andrea & English teachers Roz & Karen for teaching me about feminism & political theatre but also just being kind, patient humans.