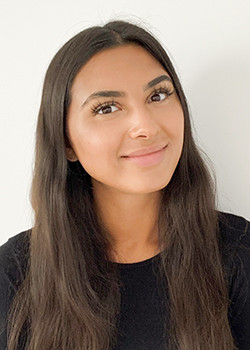 Yasmin Samaroo
Legal Apprentice at Gowling WLG
I came from Longhill High School and studied at BHASVIC from 2016 to 2018. I studied BTEC Level 3 Subsidiary Diploma in Applied Law (Single Law BTEC), BTEC Level 3 Diploma in Business (Double Business BTEC) and 1 year portfolio subject in Criminology
I had a great time at BHASVIC over my two years of studying. I really enjoyed my subjects as I knew I wanted to do something business/law related in the future. I opted for BTEC as I am better suited to coursework rather than exams (my own preference). My teachers were knowledgeable and always very helpful. I felt supported with my studies and also outside of my studies with areas such as university, mental health and career options etc. I had a brilliant tutor group and both my tutor and teachers were always approachable. There were many resources available and specialist staff on hand if I had any questions (example - careers advisor). I made some friends for life at BHASVIC and had a truly fantastic experience, I wish I could go back!
After BHASVIC, I took a gap year which allowed me to focus on applying for legal apprenticeships. I also worked various jobs, volunteered at Sussex Police and travelled around Australia.
In September 2019, I started a Paralegal Apprenticeship in an international law firm, based in London. The law firm deals with commercial clients, this ties in with my business studies and law courses very nicely. I have almost completed the second year of my apprenticeship and have recently finished several exams. On successful completion of this 2 year apprenticeship, I will be a qualified Paralegal. In September this year I will progress onto the Solicitors Apprenticeship. The apprenticeship is roughly 6 years and involves working a full time job alongside studying a law degree. The ultimate aim is to qualify as a Solicitor via this un-traditional route. Although it is hard work and a long hours, I am thoroughly enjoying it and look forward to seeing what the future holds.
My best advice would be to make sure you choose the subjects that are right for you. I would highly recommend BHASVIC!