#BeMoreBHASVIC Wellbeing support
Throughout our students' time at BHASVIC we are always looking for ways to promote and support positive wellbeing and mental health. We are as committed to helping students' personal development as we are to their academic development and our wellbeing support plays a major role in this.

Underpinning everything we do is the concept of #BeMoreBHASVIC – we want our students to Be Happy, Active, Successful, Valued, Independent members of the college Community. At the heart of this approach is 'Be Happy'. We understand that no one can be happy all the time, and that happiness is a very personal concept, but we are committed to delivering our students a positive college experience and giving them the tools to build greater happiness now and in the future.

For young people college represents a safe space, a place to be themselves, and structure and security in their daily lives. Within this space we have a variety of ways in which we encourage and support our students' wellbeing. Alongside their friends and teachers there are two key members of BHASVIC that will support students on a regular basis, Personal Tutors & Guidance Managers - you can read more about these roles below.

We hope you find this information useful, for more details on the support available for students at BHASVIC please visit our page on dedicated support here.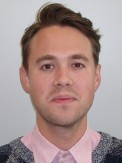 James Barton
Guidance Manager / Emotional Health & Wellbeing Lead
WELLBEING NOTICEBOARD
Free online relaxation sessions for all students: Wednesdays at 7.30pm (from 6th January) - If any student is feeling particularly unsettled or anxious, we are offering weekly guided relaxation sessions, led by Lindsey Hardman. All that is required is a quiet, comfortable space and good internet connection. Students who would like to take part should email wellbeing@bhasvic.ac.uk using their BHASVIC e-mail address and they will be sent a link to join.
Please view the recording of our December Wellbeing Webinar Managing Emotion and Learning Through Daily Habits, in partnership with Andrew Wright from Action Your Potential. Recordings of the series of shorter 30 minute wellbeing works webinars can also be viewed here: 1. Sleep and Exercise; 2. Managing Emotions; 3. Rock 11: Do Something You Love and 4. How Do I Get The Rocks In Everyday.

We are also delighted that Andrew is now working with our Student Peer Mentors and is devising a podcast, BHASVICRocks to help students prepare for the new year and manage anxiety around exams: more details to follow; but check out the Action Your Potential website.

Mindfulness and Mind & Movement short courses (4-6 weeks) have been running this term and are now taking names of first and second year students who might be interested in signing up for one of these courses in the new year. The courses happen in the normal college day both onsite or online; and the new series of sessions will begin from Monday 24 January. Students have been given information in tutorial, but if you think they might benefit, please encourage them to find out more by e-mailing wellbeing@bhasvic.ac.uk
BHASVIC are committed to improving the emotional health and wellbeing of children and young people, please read the independent review 'Foundations for Our Future', South East Today also visited BHASVIC in October interviewing students and Alison Cousens, Assistant Principal, you can view the clip HERE.
Working with out partner Andrew Wright we were pleased to deliver a series of webinars before the summer break focusing on developing wellbeing skills.
BBC Radio Sussex show lifts lid on Raising Teens in Lockdown - Press Release - Raising Teens Series 3-10-May-2020, catch up on previous episodes here: Raising Teens
General Information & Advice for young people's support and services and maintaining positive wellbeing.
SCROLL DOWN THIS PAGE TO SEE FURTHER INFORMATION
All students have a weekly tutorial session with their Personal Tutor. Tutorial sessions support with important processes such as UCAS and Progress reviews, as well as exploring termly topics such as emotional health & wellbeing and life skills.
Each session has time allocated at the end for one-to-one catch-ups and students will meet with their tutor at least once a term for a one-to-one conversation to discuss how college is going, and whether there is anything that is worrying them or affecting their studies or well-being.
Personal Tutors are there to support students through their college experience and students are encouraged to ask to see their tutor for one-to-ones more often if they need extra support.
In addition to the support offered by tutors, all students are allocated to one of six Guidance Managers (GM's). GM's are responsible for managing a group of Personal Tutors, and will handle the more serious issues that their tutees are experiencing. This includes extra support for students who are particularly vulnerable, especially when they are at risk of leaving the college early.
GM's are also responsible for discipline issues, and safeguarding concerns about the tutees in their groups. Please see Guidance and Student Services Team Details.
Our last two student 'Emotional Health and Wellbeing' surveys have identified the following five things as having the most positive impact on a student's wellbeing:
Listening to music
Friendships and socialising
Good quality sleep
Watching films or TV
Managing my work well
These are simple ways to maintain positive wellbeing and fall under something we would call 'self-care'. Throughout college we encourage students to identify the self-care techniques they find most useful and to build them into their daily routines. Our tutorial programme also features specific sessions on issues such as sleep and exercise.
Over the past couple of years, BHASVIC students have been involved in the #IAMWHOLE campaign, which aims to reduce the stigma around mental health #IAMWHOLE campaign.
Here are two videos from the campaign the first is made by BHASVIC TV and second reinforces the message that we are all responsible for thinking about the language we use, and suggesting changes to others when we hear stigmatising words and phrases: Video
Each year the college runs a wellbeing peer mentoring group as part of the A2 portfolio course options. The students work with a range of professionals and college staff to develop ideas and resources to support BHASVIC students' wellbeing and aid their professional development. In 2020 the group launched an Instagram page containing content on a range of wellbeing and mental health issues. Management of this account will be transferred to the new students each year and it will be kept updated throughout term time.