BHASVIC Wellbeing support
Throughout our students' time at BHASVIC we are always looking for ways to promote and support positive wellbeing and mental health. We are as committed to helping students' personal development as we are to their academic development and our wellbeing support plays a major role in this.

Underpinning everything we do is the concept of #BeMoreBHASVIC – we want our students to Be Happy, Active, Successful, Valued, Independent members of the college Community. At the heart of this approach is 'Be Happy'. We understand that no one can be happy all the time, and that happiness is a very personal concept, but we are committed to delivering our students a positive college experience and giving them the tools to build greater happiness now and in the future.

For young people college represents a safe space, a place to be themselves, and structure and security in their daily lives. Within this space we have a variety of ways in which we encourage and support our students' wellbeing. Alongside their friends and teachers there are two key members of BHASVIC that will support students on a regular basis, Personal Tutors & Guidance Managers - you can read more about these roles below.

We hope you find this information useful, for more details on the support available for students at BHASVIC please visit our page on dedicated support here.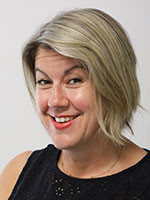 Andrea Meadows
Guidance Manager / Emotional Health & Wellbeing Lead
All students have a weekly tutorial session with their Personal Tutor. Tutorial sessions support with important processes such as UCAS and Progress reviews, as well as exploring termly topics such as emotional health & wellbeing and life skills.
Each session has time allocated at the end for one-to-one catch-ups and students will meet with their tutor at least once a term for a one-to-one conversation to discuss how college is going, and whether there is anything that is worrying them or affecting their studies or well-being.
Personal Tutors are there to support students through their college experience and students are encouraged to ask to see their tutor for one-to-ones more often if they need extra support.
In addition to the support offered by tutors, all students are allocated to a Guidance Manager (GM) who is responsible for managing a group of Personal Tutors and will handle the more serious issues that their tutees are experiencing. This includes extra support for students who are particularly vulnerable, especially when they are at risk of leaving the college early. GMs are also responsible for discipline issues and safeguarding concerns about the tutees in their groups.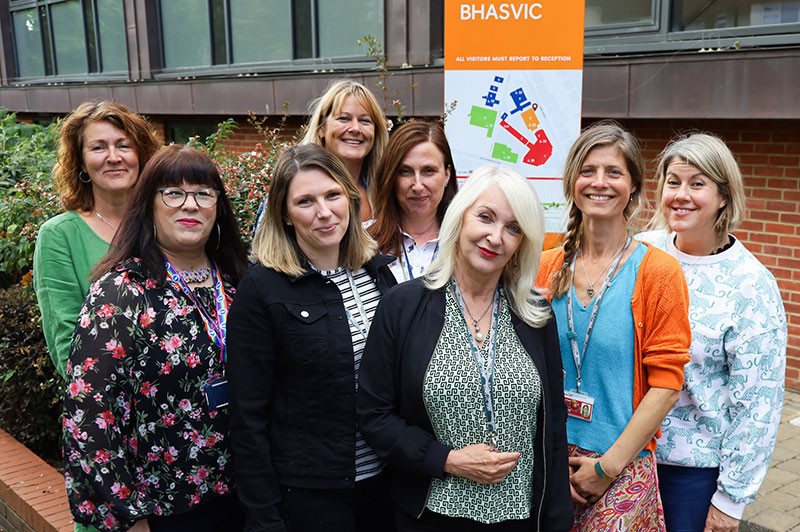 HEAD OF GUIDANCE
VICKY JOHNSON
I had the privilege of joining the guidance team as Head of Guidance in 2022 and I'm proud to lead a team dedicated to supporting students.
I have worked in education for most of my professional life. My early career was in secondary education as a PE teacher, Head of Year and later a Director of Progress and as such have a great deal of experience working with students and parents aiming to break down barriers to education so that all students can achieve their full potential.
Prior to BHASVIC I worked in University Outreach, offering Information Advice and Guidance to students who were the first in their family to go to university; something I remain passionate about.
I love working with young people and am constantly in awe and amazed by the things they are capable of.
Get in touch: v.johnson@bhasvic.ac.uk / 01273 552200 X4908

GUIDANCE MANAGERS
MANDY BRINDLE
After completing my degree, I went on to study for a post graduate Diploma in Careers Guidance. I worked as a Careers Adviser in Lancashire, London and Cheshire before becoming a manager in the Careers, Connexions and Youth Support Services. I gained specific qualifications in psychometric testing and running assessment centres and went on to deliver many sessions for individuals and corporate clients. In time, I became a self -employed careers consultant, until 2015 when I moved to Brighton and began my role as a Guidance Manager at BHASVIC.
My role at college is incredibly interesting and varied but the very best thing about it is the contact with the students themselves, it is just so rewarding. I have a particular interest and specialism in developing the one to one skills of pastoral staff to make sure we establish a good rapport with the students and make effective interventions.
My hobbies outside of work include Sport, Art, particularly interior design and walking my dog on the seafront!
Get in touch: m.brindle@bhasvic.ac.uk / 01273 552200 X 5833

ELLA CHARMAN
I really cherish my role as a Guidance Manager. It's a role that feels unique to BHASVIC and offers a high level of support to young people that I believe is invaluable. I get to work closely with students on a one-to-one basis, who may be finding things challenging and are looking for support to find a way to overcome the obstacles in their path. It's so rewarding to see these students succeed and move on to the next stage of their journey.
I have previously worked as an English teacher, Personal Tutor, Progression Manager and Welfare Officer in a range of organisations from Further to Higher Education. I feel well equipped to support young people with the variety of challenges they may face across their learning journey, having worked with such a diverse range of students. I have a keen interest in transition periods for young people and helping students manage these successfully, for example starting at a new college, progressing to the next stage of learning or preparing for university.
I have recently returned to work after spending a wonderful year on maternity leave with my first born. As a new mum, I'm so glad to be coming back to such a supportive place to work and to get the opportunity to work with such amazing young people.
I'm a big reader and love to get book recommendations from the students I'm working with.
Get in touch: e.charman@bhasvic.ac.uk / 01273 552200 X4906

NIKKI FABRY
I find my role as a Guidance Manager really rewarding. Working with students, staff, parents and carers to find the best way forward, making a difference as part of such a supportive team is a great way to work. I love my job! I am particularly passionate about every student getting all the help they can access through all life's challenges.
I have worked in various roles including supporting vulnerable and disadvantaged people, school and college librarian and as a regional training officer for a national charity, before qualifying as a teacher some years ago now. My move into pastoral work came from personal tutoring at BHASVIC. I feel we are a really supportive college and really value both our students and staff. I am passionate about volunteering which I have done through my adult life including a local helpline, parents' groups when my own children were younger, local politics and saving my local Lido. Through my own experiences I am always keen that students recognise their own skills and abilities and how they can evidence these in applications for work, university and apprenticeships. They often don't know just how brilliant they are!
In my own time I am a busy BHA season ticket holder home and away, I love live music and going to gigs and other sports such as the darts. Within our role we are always learning, from the students and each other. For any student, talk to us if you need to. We can most probably help in some way.
Get in touch: n.fabry@bhasvic.ac.uk / 01273 552200 X5820


LUCY FOSS
I love the role of Guidance Manager. This role enables me to work closely with students, supporting them through struggles or concerns, giving them time and space to find solutions together. We want students to enjoy their time at college and achieve all they are capable of.
I have worked as an English teacher, Personal Tutor, an Education Development Coordinator for a small organization, and in a variety of roles in pastoral work and Widening Participation in higher education settings. I have run creative writing workshops for children and adults and have a particular interest in Therapeutic Writing and its positive impact on wellbeing. I have counselling training and enjoy using a person-centred approach when working with students. My career has shifted and changed as I have balanced it with raising a family.
I love running and being outside, and reading and writing poetry. I really enjoy working at BHASVIC in the Guidance Team – the students are fantastic!
Get in touch: l.foss@bhasvic.ac.uk / 01273 552200 X4700

ANDREA MEADOWS
My name is Andrea and I started my career as a Drama teacher in Essex teaching level 2 students from challenging backgrounds. It was a really wonderful experience for me and I learnt a lot about how barriers to learning can really impact the life chances of young people. This work awakened a real interest in working therapeutically with young people and I began a series of training courses in Counselling. I moved to Brighton in 2003 and took up the role as a Drama Teacher at BHASVIC – throughout my time working in this post I have also continued with my training as a counsellor. I have only recently hung up my drama teacher earrings and floaty scarves to take up a full time post as a Guidance Manager.
I love my work as a Guidance Manager as it seems to encapsulate everything I love to do – empowering young people to succeed, solving problems and nurturing students who need a little bit of extra support. Seeing these students succeed is really rewarding. I have plans to do a little bit of Drama too but focusing on issue-based topics that link to mental health and wellbeing in young people.
In addition to my role as a Guidance Manager I have also been given a specialism of Mental Health and Wellbeing. I am developing initiatives that support our students academically such as developing a mentoring programme with one of our wellbeing partners. I have also begun to bring in therapy dogs from the registered Charity PAT. Being a dog lover myself I have been thrilled to see how the students have responded to the visits from the dogs. It was been a really positive experience and I hope to continue this into the future.
In my spare time I love to walk my dog – who is a toy poodle called Billy as well as cooking, reading, theatre and travelling.
Get in touch: a.meadows@bhasvic.ac.uk / 01273 552200 X4697

JUDITH SHARD
I really enjoy my role as a Guidance Manager. Working with this age group is always rewarding and no day is the same! I have been in role for just over two years, previously working in a similar support and guidance position at the University of Brighton and aim for a student-centred and compassionate approach at all times. My fellow GMs and our brilliant teams of Personal Tutors work closely together, hoping to ensure all our students are supported, happy and get their best outcomes.
I started working in education when my kids were small, previously having led a very different life experience in the music industry in London. I completed my own university education later in life, aware that there are many routes into work and HE, with the options of alternative trajectories and opportunities hopefully underpinning many of my discussions with students.
Alongside being a Guidance Manager, I am the Designated Teacher at College, working closely with care-experienced students and supporting them through their college journey. I am passionate about facilitating the lives of young people and breaking down barriers to learning where and when I can.
We are so lucky to be based in Brighton - I love the sea, the Downs and everything in between and in my spare time like to read, cook, watch films and run!
Get in touch: j.shard@bhasvic.ac.uk / 01273 552200 X4781

KAREN STALKER
I joined the team as a Guidance Manager in 2022 and I really enjoy working with students to provide pastoral support and academic guidance to enable them to make informed decisions about their future progression. What I value most in this role is having the ability to see positive outcomes with my cohort, to be a significant part of the support system which helps students with even the most complex personal circumstances to stay on course, achieve their potential and choose a pathway that is right for their future.
From personal and professional experience, I am passionate about widening access to progression opportunities and have a deep commitment to promoting social mobility and encouraging aspirational goals. I am a qualified careers professional by trade and have over two decades of experience working in advice and guidance services in further and higher education in a variety of roles including Careers Adviser, Finance and Welfare Adviser, HE Outreach Project Lead, Widening Participation Project Lead, Careers Leader, and Student Employment Manager and it is amazing to be a part of a supportive team here at BHASVIC working collaboratively with expert colleagues to provide the best service to our students.
In my free time I like to travel and I'm really interested in yoga which I have practised for many years and which helps me to feel more balanced.
Get in touch: k.stalker@bhasvic.ac.uk / 01273 552200 X4906
Are you Interested in Making a Difference to the College Community?
If you have ideas on improving wellbeing in the college, or you are someone who would like to meet like-minded individuals who care about the community, being a Wellbeing Ambassador is for you. Join a small group of students who will meet regularly to discuss and implement projects across the college to help improve the health and wellbeing of the student body (training may also be provided). We meet every Wednesday 11:45 - 13:00 in the Drama Studio.
Why Become a Wellbeing Ambassador?
Young people in the UK have a higher mental health need than ever, one in six young people have experienced a mental health problem in 2020, up from one in nine in 2017.
Nearly a third of 16-24 year old's in the UK reported some evidence of depression or anxiety in 2017/2018, this is an increase from the previous year (26%) and the same period five years earlier (26%).
Young people in the lowest income bracket are four/five times more likely to experience severe mental health problems than those in the highest income bracket (https://www.mind.org.uk/).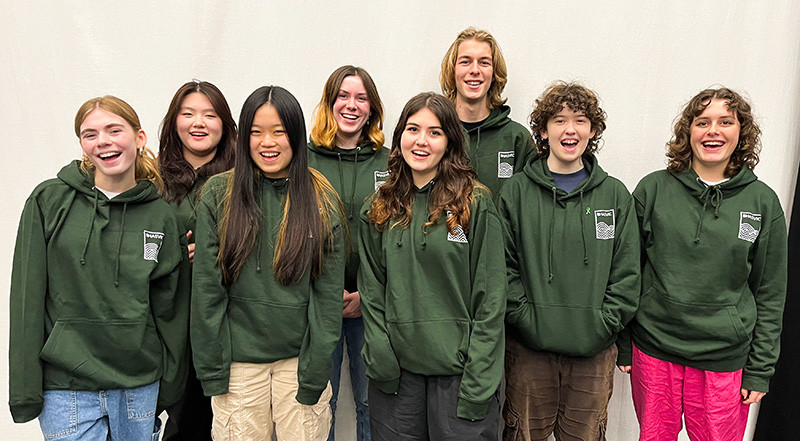 If you would like to become a Wellbeing Ambassador or find out more information please email a.meadows@bhasvic.ac.uk or TEAMS message Andrea Meadows.
Our last two student 'Emotional Health and Wellbeing' surveys have identified the following five things as having the most positive impact on a student's wellbeing:
Listening to music
Friendships and socialising
Good quality sleep
Watching films or TV
Managing my work well
These are simple ways to maintain positive wellbeing and fall under something we would call 'self-care'. Throughout college we encourage students to identify the self-care techniques they find most useful and to build them into their daily routines. Our tutorial programme also features specific sessions on issues such as sleep and exercise.
We have worked with one of our Wellbeing Partners Andrew Wright of Action Your Potential for a number of years to develop a programme of Wellbeing support for students, parents and carers. Andrew's '12 Rocks of Wellbeing' are embedded into our tutorial work and college induction for new students and Andrew delivers bespoke webinars, workshops and videos throughout the year to support with specific elements of wellbeing. Archives of Andrew's resources are kept here whilst we will update students, parents and carers with up-and-coming activities through the wellbeing noticeboard, tutorial and newsletters. Please see further resources below from previous webinars:
An Example of Resources from Webinars in 2022
During December 2021 Andrew delivered a Wellbeing Webinar Managing Emotion and Learning Through Daily Habits. Recordings of the series of shorter 30-minute wellbeing works webinars can also be viewed here:
Before the 2021 summer break Andrew delivered a series of webinars focusing on developing wellbeing skills:
We are also delighted that Andrew is now working with our Wellbeing Peer Mentors and is devising a podcast, BHASVICRocks to help students prepare for the new year and manage anxiety around exams: more details to follow; but check out the Action Your Potential website.
Over the past couple of years, BHASVIC students have been involved in the #IAMWHOLE campaign, which aims to reduce the stigma around mental health #IAMWHOLE campaign.
Here are two videos from the campaign the first is made by BHASVIC TV and second reinforces the message that we are all responsible for thinking about the language we use, and suggesting changes to others when we hear stigmatising words and phrases: Video
We recognise that exams and assessment can cause an increase in stress and anxiety for students and have created a list of resources in partnership with our students here