#BeMoreBHASVIC Wellbeing support
Throughout our students' time at BHASVIC we are always looking for ways to promote and support positive wellbeing and mental health. We are as committed to helping students' personal development as we are to their academic development and our wellbeing support plays a major role in this.

Underpinning everything we do is the concept of #BeMoreBHASVIC – we want our students to Be Happy, Active, Successful, Valued, Independent members of the college Community. At the heart of this approach is 'Be Happy'. We understand that no one can be happy all the time, and that happiness is a very personal concept, but we are committed to delivering our students a positive college experience and giving them the tools to build greater happiness now and in the future.

For young people college represents a safe space, a place to be themselves, and structure and security in their daily lives. Within this space we have a variety of ways in which we encourage and support our students' wellbeing. Alongside their friends and teachers there are two key members of BHASVIC that will support students on a regular basis, Personal Tutors & Guidance Managers - you can read more about these roles below.

We hope you find this information useful, for more details on the support available for students at BHASVIC please visit our page on dedicated support here.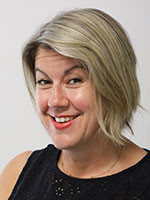 Andrea Meadows
Guidance Manager / Emotional Health & Wellbeing Lead
WELLBEING NOTICEBOARD
Mental Health Awareness Week 2023 from Monday 15 - 21 May. The 'Just Anxiety' campaign aims to help people and organisations to understand the difference between anxiety and anxiety disorders.
From Action Your Potential Top Tips for Building Great Well-Being in Mental Health Awareness Week.
We were delighted to welcome back in May, Jimmy and Doris our Pets As Therapy dogs. Students were able to book in to spend some quality time with them in Student Services.

Brighton & Hove City Council Adult Education Hub - Online Courses for Parents/Carers

-

helping to support

support parents and carers of young people struggling with anxiety, and those needing to build resilience (courses are free to those in receipt of a means-tested state benefit, or with an income of less than £18, 500, otherwise there is a fee of £15).

Enrolment can be completed online

https://adulteducation.brighton-hove.gov.uk/

or by calling the Adult Education Hub on 01273 292828.

Action Your Potential

Wellbeing W

ebinars

every Thursday from 2 March

- 8 June -

Following on from the

Procrastination Workshops earlier this term,

Action Your Potential

are offering

students

,

parents and carers unique support throughout this exam season

focusing on build

ing

the daily

behaviours

to support excellent achievement in GCSEs, A Levels and BTECs.

For more information and how to sign up please go to Action Your Potential.

Exam

#NeuroNinga Online Webinar for Students, Parents and Carers took place on 1

February

in partnership with Action Your Potential, view the recording here.
Andrew Wright from Action Your Potential ran #NeuroNinja Procrastination and Motivation Workshops in January which were well received from students. Exploring what does it mean to procrastinate? Understand your frustrations around procrastination, discover strategies to motivate yourself.
1-2-1 coaching sessions have now been established and are ongoing with one of our wellbeing partners Action Your Potential . Students should email wellbeing@bhasvic.ac.uk if they think they would benefit from this
support.
Change Your World Webinar Recording - took place on Thursday 22 September in collaboration with one of our Wellbing Partners ActionYourPotential
During the first two weeks of term in September 2022 every student at BHASVIC experienced a wellbeing session from Action Your Potential giving students information about key metacognitive skills to help them prepare for the exciting learning journey ahead.
BBC Radio Sussex show lifts lid on Raising Teens in Lockdown - Press Release - Raising Teens Series 3-10-May-2020, catch up on previous episodes here: Raising Teens
General Information & Advice for young people's support and services and maintaining positive wellbeing.
SCROLL DOWN THIS PAGE TO SEE FURTHER INFORMATION
All students have a weekly tutorial session with their Personal Tutor. Tutorial sessions support with important processes such as UCAS and Progress reviews, as well as exploring termly topics such as emotional health & wellbeing and life skills.
Each session has time allocated at the end for one-to-one catch-ups and students will meet with their tutor at least once a term for a one-to-one conversation to discuss how college is going, and whether there is anything that is worrying them or affecting their studies or well-being.
Personal Tutors are there to support students through their college experience and students are encouraged to ask to see their tutor for one-to-ones more often if they need extra support.
In addition to the support offered by tutors, all students are allocated to a Guidance Manager (GM'). GM's are responsible for managing a group of Personal Tutors,and will handle the more serious issues that their tutees are experiencing. This includes extra support for students who are particularly vulnerable, especially when they are at risk of leaving the college early.
GM's are also responsible for discipline issues,and safeguarding concerns about the tutees in their groups.
We are excited to announce the creation of a new Theatre Company within BHASVIC – called "Enlightened Theatre Company". We will be researching, creating and performing community based projects to our staff and students.
This is a work based project which will involve the formed company to work as an ensemble to research and select suitable ideas for the project linked specifically to the overall wellbeing strategy, for example we may work around themes such as:
Consent

Managing change

Transition

Mental health.
Ultimately this is about creating work that we feel is relevant to our peer group. Through a series of staff led workshops the company will help to generate ideas, write and devise material and develop a project which will be themed around social issues impacting young people like you. We will contribute to the realisation of the project and perform to a suitable audience. So watch this space as more details to follow…..
Our last two student 'Emotional Health and Wellbeing' surveys have identified the following five things as having the most positive impact on a student's wellbeing:
Listening to music
Friendships and socialising
Good quality sleep
Watching films or TV
Managing my work well
These are simple ways to maintain positive wellbeing and fall under something we would call 'self-care'. Throughout college we encourage students to identify the self-care techniques they find most useful and to build them into their daily routines. Our tutorial programme also features specific sessions on issues such as sleep and exercise.
We have worked with one of our Wellbeing Partners Andrew Wright of Action Your Potential for a number of years to develop a programme of Wellbeing support for students, parents and carers. Andrew's '12 Rocks of Wellbeing' are embedded into our tutorial work and college induction for new students and Andrew delivers bespoke webinars, workshops and videos throughout the year to support with specific elements of wellbeing. Archives of Andrew's resources are kept here whilst we will update students, parents and carers with up-and-coming activities through the wellbeing noticeboard, tutorial and newsletters. Please see further resources below from previous webinars:
An Example of Resources from Webinars in 2022
During December 2021 Andrew delivered a Wellbeing Webinar Managing Emotion and Learning Through Daily Habits. Recordings of the series of shorter 30-minute wellbeing works webinars can also be viewed here:
Before the 2021 summer break Andrew delivered a series of webinars focusing on developing wellbeing skills:
We are also delighted that Andrew is now working with our Wellbeing Peer Mentors and is devising a podcast, BHASVICRocks to help students prepare for the new year and manage anxiety around exams: more details to follow; but check out the Action Your Potential website.
Over the past couple of years, BHASVIC students have been involved in the #IAMWHOLE campaign, which aims to reduce the stigma around mental health #IAMWHOLE campaign.
Here are two videos from the campaign the first is made by BHASVIC TV and second reinforces the message that we are all responsible for thinking about the language we use, and suggesting changes to others when we hear stigmatising words and phrases: Video
We recognise that exams and assessment can cause an increase in stress and anxiety for students and have created a list of resources in partnership with our students here